Only 2 more weeks to go and there we go, on a 'Romeria'.
Firstly, what is a Romería?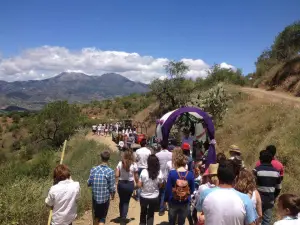 'Romeria', an expression reflecting a travel to Rome, is a religious pilgrimage.
Wikipedia describes it as a Catholic celebration that consists of a trip (in cars, floats, on horseback or on foot) that ends at a sanctuary or hermitage.
One of the most known of them, practised by almost any inland village or town, is the romería around San Isidro Labrador.
Who was San Isidro? And why is he Labrador?
In Spanish, a 'labrador' is a labourer of the land:
A farmer, traditionally leaving the small house in the pueblo or city in the morning, for the campo, where he worked all day in the heat, and walked home again in the evening.
'Isidore the farmer' was a hired hand in the service of a wealthy landowner, on a farm nearby Madrid.
He is said to have stood 6ft5 tall, which in the 11th century must have been an incredible giant, so it could very well be that his height increased with every century that passed by: then, as now, heroes needed to be 'larger than life'.
At what point did he turn from simple worker of the land… into a celebrity?
For his sharing of what he had, with the poor, and for his love for animals.
A famous story handed over from generation to generation, is that on a frosty morning he poured half of his sack of precious corn upon the ground for a flock of pigeons. This despite the mocking of witnesses – the idea of animal welfare yet had to be born, and we could assume that it was initiated by personalities such as Isidore.
When he reached the mill though, the bag was still full, and the corn, when it was ground, produced double the expected amount of flour.
It is but one of several stories. That, over time, changed – for corn wasn't known in Spain until the 15th century.
Be it because of such miracles, or the highly unique compassion for animals, or his stature… his reputation spread like wildfire (in the 11th century that must have been: in a matter of decades).
In 1619 he was beatified in Rome, canonized 3 years later, and in 1696 his relics were moved to the Royal Alcazar of Madrid.
He is very widely venerated as the patron saint of farmers, peasants, day laborers and agriculture in general, as well as brick layers. From his hometown of Madrid to cities as Leon and Seville, to towns and villages all around Spain and in the former Spanish Empire, all the way to the Philippines, he is honoured as patron saint.
His feast day is celebrated on May 15th.
What do we celebrate on San Isidro?
Obviously Isidor himself, the example he set and the influence he had. More than any other fiesta though, San Isidro is a celebration of the community: in which everyone, farmer, builder, agriculturer – or nowadays a whole array of professions and social tasks – plays a role for and in its protection, harmony and success.
It is very much an event in which everyone automatically mingles with everyone, or is invited to do so.
Also read 5 things to take with you to the Romeria
Grapevine Properties
Guaro, inland Málaga
www.grapevine-properties.com