Let's put the spotlight on someone we all know…
Everywhere in Málaga. Every day. The shepherd. El 'pastor'!
Of cabras (goats) or ovejas (sheep).
For Mary might have had a little lamb, we are so lucky to have thousands of them, and to see them live just as they did thousands of years ago:
From green pasture to tranquil waters, under the guidance of tireless dogs – and the responsible for their safety and well being, the shepherd.
The real oldest profession in the world?
No, that would have been hunter or gatherer of course. Shepherd must have followed suit pretty quickly though.
Adam and Eve would have been herders.
There has been a period of herding in the lives of literally all prophets of all 3 Abrahamic religions, all the way from Abraham in 1800 BC to Muhammad in 600 AD.
Try to count the sheer number of porcelain shepherdesses, nursery rhymes, psalms, parables, metaphors, dogs that popped up in your life – it's a profession that is deeply ingrained in our collective consciousness, which possibly is the reason why it fills us with a little bit of warmth whenever we encounter it. Its mere existence is a stress reducer.
The most famous shepherd of all time?
Little David, that intriguing 5ft-something teenager with all his far taller brothers… but who was the one daring to take on Goliath, and went on to become King David and the author of the Psalm 'The Lord is my shepherd'.
Fast forward 3000 years and he ended up as the King of Spades in everyone's deck of cards (early Middle Ages), another 200 years and Michelangelo made a (for sure slightly idealised) sculpture of him (1501-1504)… and yet another 500 years and he ends up in this blog that is world famous in downtown Guaro.
The work of a shepherd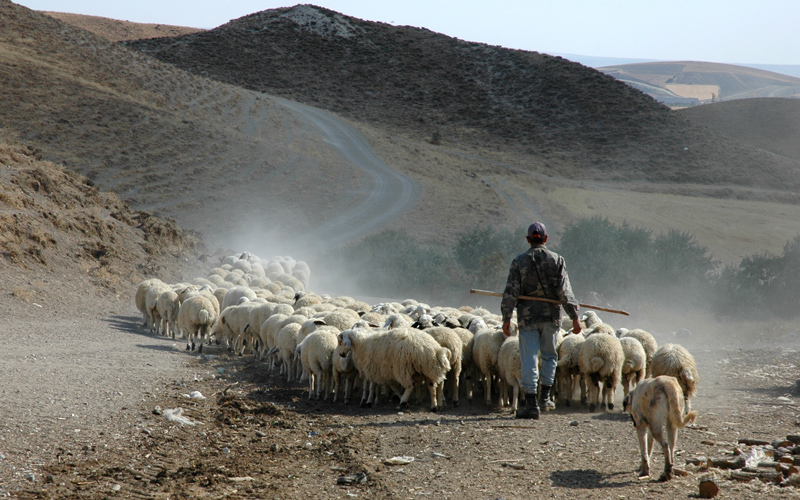 Sometimes we think that all a 'pastor' needs to do is to tag along all day, and strike the occasional photogenetic pose. Nothing could be further from the truth; he is the one behind your wool, cheese or milk needs and responsible for quality. For this he has to master quite the number of skills, absolute vigilance for his flock, care for the individual animal, and knowledge of pastures chief among them.
Nobody can wreck a land so much as a herd of cabras (goats) or ovejas (sheep). They can be the saviour of soil, but also its ruin. For that reason they need to be permanently on the move, according to the seasons and the type of grass.
Especially sheep are fragile creatures and prone to dozens of dangers, in today's Andalucía dogs and parasites being the most known ones. A cast down sheep is not capable of getting up, so as its guide you have to be on the permanent look out that no sheep is left behind – and thus in mortal danger – and get it up and massage its legs for blood circulation.
Any shepherd can tell you that sheep come with their personalities, and one bad apple in the flock – for example the ewe teaching her lambs where to find holes in the fence, an overly dominant ram – can cause one headache after the other.
Shepherd in 2017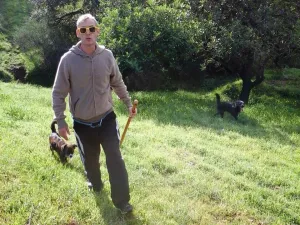 In the midst of modern day traffic, a shepherd must sometimes really feel to be a little David, a little bit ignored amidst the hustle and bustle of all those more hectic brothers: it might have become easier to keep the flock free from predators, but not of stress.
Yet, little David was the only character in the Bible to ever have made God smile. "Somehow who is so good with his sheep, must be good with mine".
(*) The 4 most formidable kings that made it to the deck of cards are: Alexander, King David, Julius Ceasar and Charles The Great. The most intriguing thing about the 2nd is whether he existed at all.
Fun facts about sheep

There are 1 billion sheep in the world. The person who counted them fell asleep.
They are divided into 900 breeds.
Their natural average lifespan is of 10-12 years. The weight of a male can go all the way from 45 to 160 kgs.
The ram has become a symbol of virility, power and determination, and a lamb of tenderness. The female is named an ewe. Theirs is a highly hierarchical society, the moving of the flock is correlated with social dominance, and the horn size is a factor in the flock hierarchy.
They find that the wool of a black sheep is just as warm. And that humans look extremely alike and all bend out of the car window with the same camera in the same Selfie-angle: they call that 'human like behaviour'.
More about sheep here on Wikipedia.
Grapevine Properties
Guaro, Málaga
www.grapevine-properties.com