How is it that Clint Eastwood has not yet made a movie called 'Long Steps'?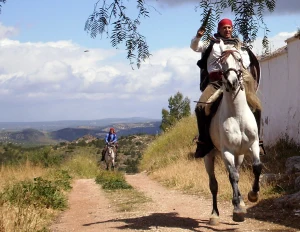 For that is the translation of 'Pasos Largos', one of those infamous Malagueños that have got 'film script' written all over him:
He was the last bandit who hid in the hills and roamed the country roads of Málaga (some say of Andalucia, some even of the whole of Western Europe).
Apart from any stone in our valley already seeping with history, those of you who bought property in El Burgo and Yunquera are not only walking in the footsteps of Romans, Visigoths and Vandals, but also living in 'Bandolero Country': for it's in El Burgo that Pasos Largos was born, and at a cave near Yunquera where he hid and was shot.
This was in 1934, after a lifetime of 60 years, of which a good 30 years dedicated to creativity with the landscape and the law – and having kidnapping as specialty. The mayor of Ronda was one of the victims, but especially the very wealthy landowner of Cuevas de Becerro who, at the time, was a person of such standing and national influence that it triggered the police station of all surrounding communities to go on a manhunt of epic proportions.
Mainly targeting the bourgeoisie or those high up the social ladder, resulted in some secretive popularity with those a few steps down.
Juan Mingolla Gallardo, by the way, was his actual name: born in El Burgo in 1873, and taking the name 'Pasos Largos' over from his father who seemed to have had a peculiar walk.
Even if you have never heard this story before, if you have ever taken the road from Yunquera to Ronda it might not come as a surprise to you: you might not be the first to suddenly wish you brought music of Ennio Morricone.
In a province not short of breathtaking views, these in this corner of our valley still stand out. It is little wonder that the triangle El Burgo-Yunquera-Casarabonela is our valley's top spot for anyone who loves horses, bird watching or hiking – or of absolutely stunning and unspoilt landscapes, and the real Andalusian life.
It might not come as a surprise that when 'Long Steps' was offered a job and finally found stability as keeper of a finca, he felt the pull of his adventurous life and turned back to the hills. And it definitely won't be a surprise to hear that when the troops yelled "surrender or we are going to kill you", the last words were: "Then kill me"! (Clint Eastwood, are you reading this?)
Today, the last Bandolero is largely forgotten – he has become the material of myths, making that one can find positive (admired by villagers) as well as negative (mean character) accounts – but mainly no accounts at all.
In 1985 a movie was made about him, and in El Burgo you still find a 'Parque de Pasos Largos' with his bust, but that's where his long steps in the sand of time start to become invisible.
The same El Burgo, by the way, where you can enjoy the XXXI Festival de Flamenco this Saturday August 20th – as of 23:00 on the patio of the Colegio de San Augustin in the centre of town.
Flamenco in combination with El Burgo – the experience can't get more Andalusian than that.
With for example this song in the car: Don Quijote has quite specific definitions of 'Bandolero' and 'Bandido' but both terms are largely used as synonyms. All together: "Tus ojos, bandido…"
Grapevine Properties SL
www.grapevine-properties.com
Guaro, Málaga